Don't ever spend another second of your precious time creating social media graphics from scratch!
Download 620+ Done-for-You Real Estate Instagram Canva Templates to Grow your Audience and Gain More Leads on Autopilot!
One-off payment. No graphic skills needed.
Level Up Your Instagram Game with Strategic and Share-Worthy Real Estate Graphics Without Hiring an Expensive Designer
Help clients find you. It's time to Boost your Brand and Fast-Track your Workflow. These Editable Canva Instagram Templates are Designed for Modern Real Estate Agents Who Want to Save Time and Grow a Solid Audience.
🔔 Regular $197. Launch Sale Ends in

Easily Customize Colors, Fonts and Images to Match
your Brand
Editing on the Canva platform is a breeze, even if you have zero graphic design experience.
Perfect for Modern and Busy Real Estate Agents
Expand your client base with an easily recognizable visual identity that will be the game-changer.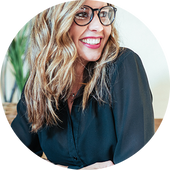 "Literally HOURS of work already done for me! Best buy for my business!! thank you so much!!!!!!"
Boost your Brand
with Engaging Content
Make your audience feel represented and recognized with diverse and inclusive posts.
Establish Your Presence
in the Real Estate Niche
Become the go-to person in your niche with value-packed content.
Turn Followers
into Customers
Build your email list, gain more leads, and increase your tribe of clients and customers.
Create a Solid Instagram Marketing Strategy
Run Insta-specific campaigns to increase your overall visibility on the platform.
Save Time, Money and Effort
Focus on what you do best - helping your clients and expanding your real estate business.
Launch and Grow Faster, Accelerate Your Success
Think like a Lady, Kick- Off like a Boss with a steady stream of consistent and quality Insta templates.


… You want to BUILD a WINNING REAL ESTATE BRAND through eye-catching IG Graphics that generate LIKES, SHARES and FOLLOWS, but YOU -
Don't know where or how to start!
Have no time (or skills) to design visual content that's better than the competition.
Are hesitant to spend thousands on a professional designer who may not "get" your brand vision.
Can't seem to entice the IG real estate audience to join your tribe and subscribe to your email list.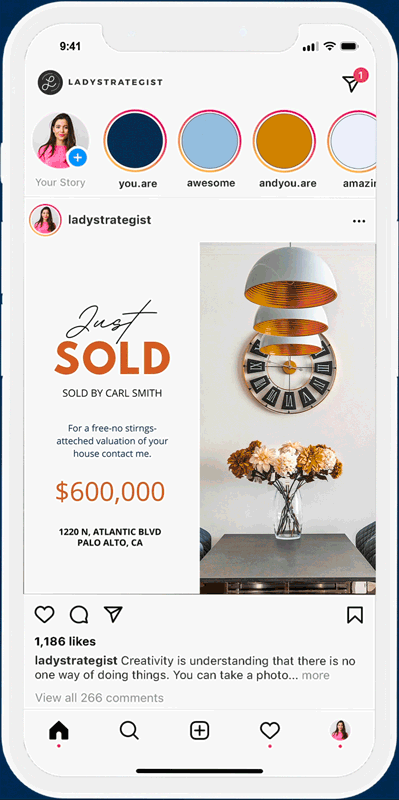 Don't you just wish there was a simpler, faster and more affordable way to produce enviable Real Estate IG content?
Your wish is granted! Now, you can...
Stop wasting precious hours staring at a blank screen. Designing from scratch can be difficult and laborious. I get you.
Skip the learning curve. Figuring out how Photoshop works is a pointless exercise (unless you plan on becoming a professional graphic artist).
End the frustration. Experimenting with various backgrounds and colors can be time consuming and will not guarantee fabulous results.
Omit the needless spending. Working with freelancers might sound like a great idea, until you receive their invoice.


Imagine how positively different your business would be if you could...
Create graphics so beautiful that your audience can't help but love, save and share
Spend minutes designing IG posts and more time growing your business.
Share high-quality, professional-grade content that reflects your brand identity and resonates with your target market
Own a world-class library filled with a wealth of graphic elements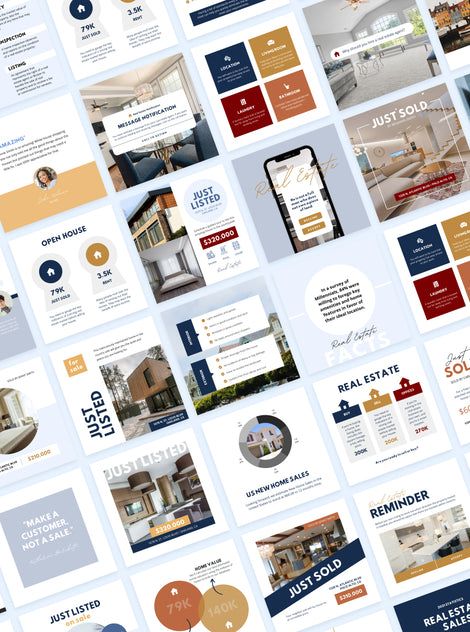 Get Instant Access to 620+ Scroll-Stopping, Done-for-You Instagram Canva Templates
Specially designed for Lady Real Estate Agents and Consultants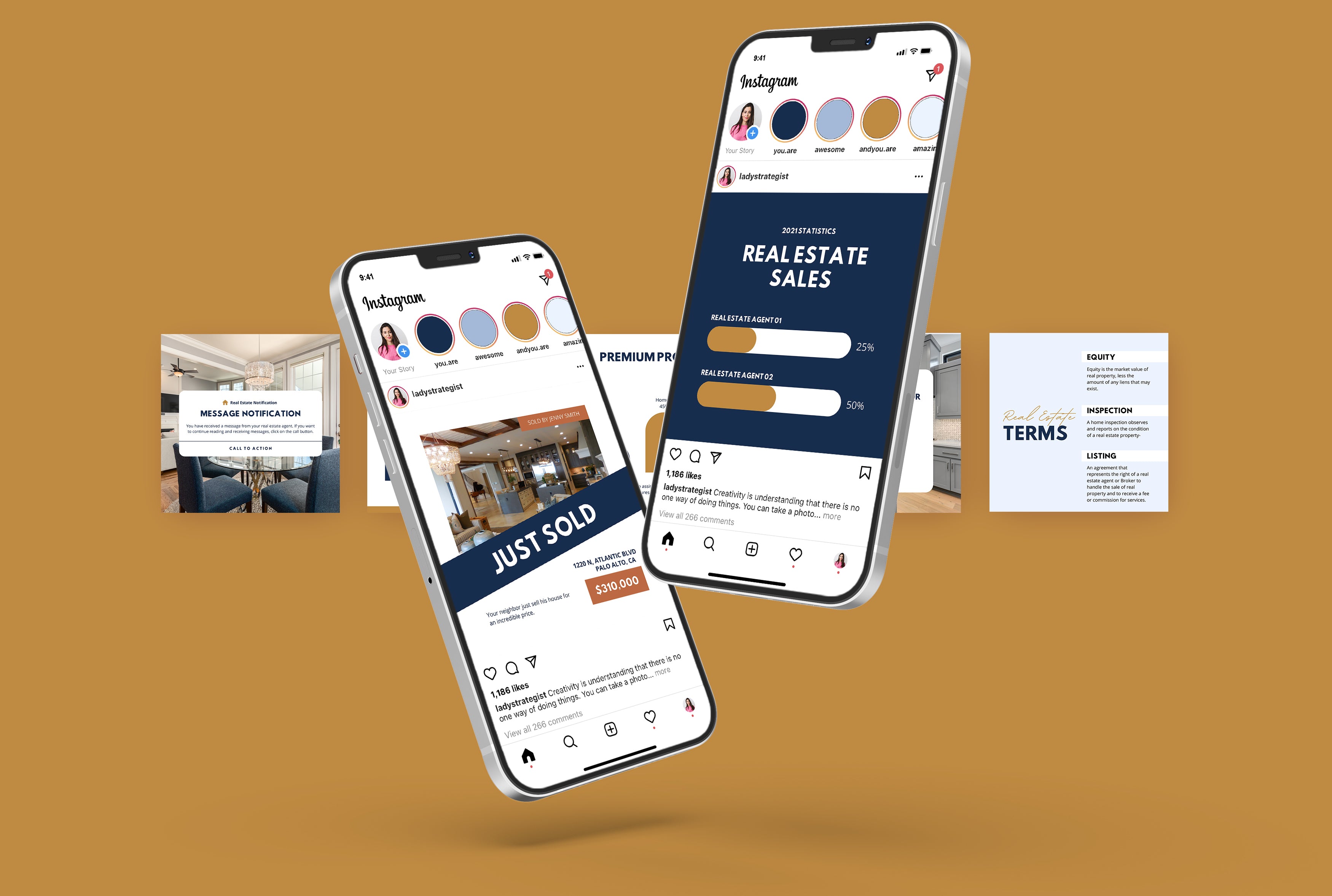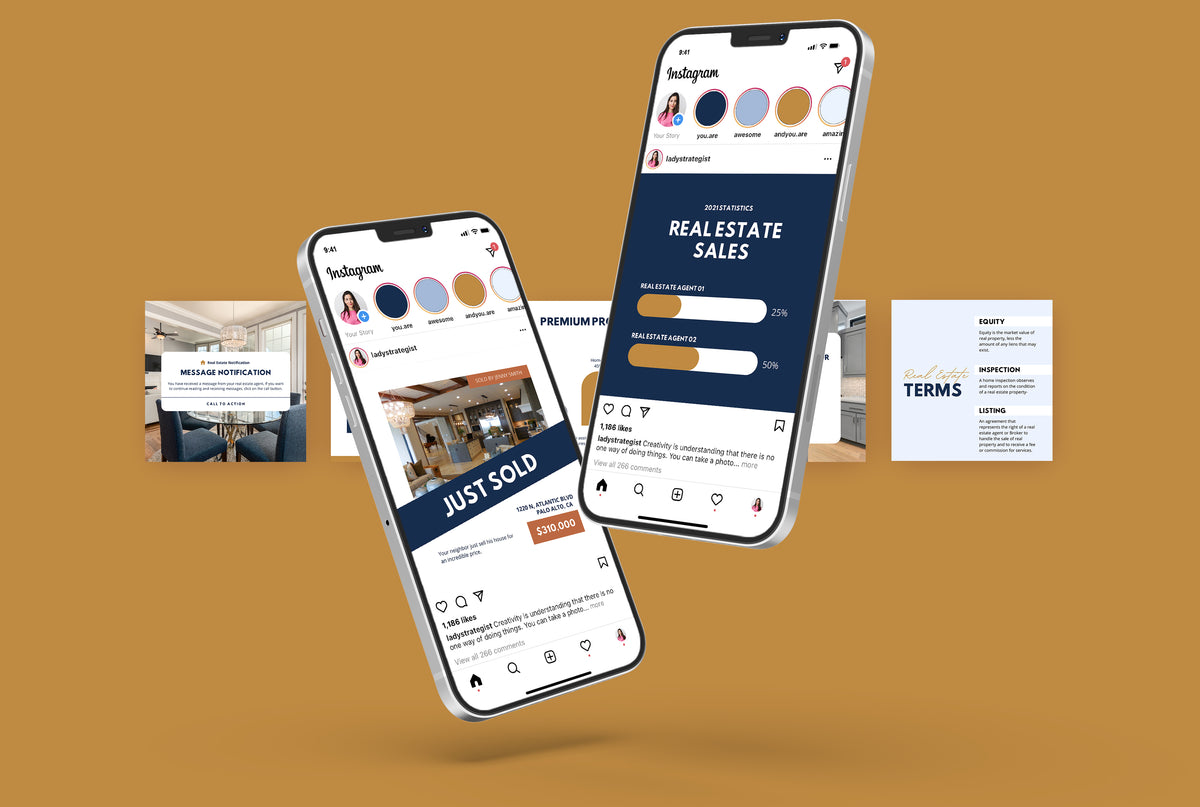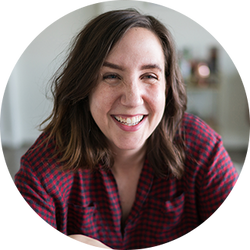 "This kit is absolutely beautiful and very useful! A must have if you want to build an effective personal branding. It's helping me to grow my Instagram followers but not only. I'm growing a real community!"
— Marie P. ★★★★★
I created these templates to Help Instagram Real Estate Agents just like You
If you don't have a designer (like me), or the time to create graphics, YOU ARE IN THE RIGHT PLACE! This top-selling product has helped thousands of Realtors with minimal design experience create stunning graphics in less time.

My Canva design pack will skyrocket your IG engagement, help boost your followers count and grow your mailing list.
How it Works
Download
Get instant access to your Canva templates through direct links listed in a downloadable PDF file.
Customize
Match any template to your branding by switching fonts, colors, images, and other graphic elements.
Export and Share
When done, export your finished designs from Canva directly to your Instagram feed!
What's Included?
A PDF file with direct A PDF file with direct links to 620+ unique Real Estate Canva templates designed specifically to boost engagement.
PLUS Free Access to Updates!
CHARTS, DIAGRAMS AND GRAPHS
Help your Audience Understand Complex Information
Create stunning, impactful, and engaging visual content that is easy to understand and digest.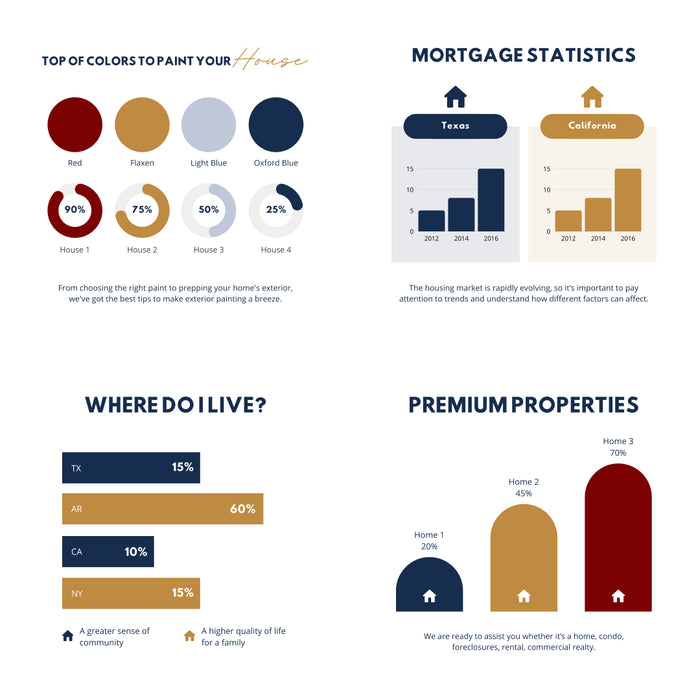 CHECKLISTS, TIPS & HACKS
Grow your Email List and Advertise Your Properties
Drive traffic to your landing page and website with Lead Magnet Promo templates.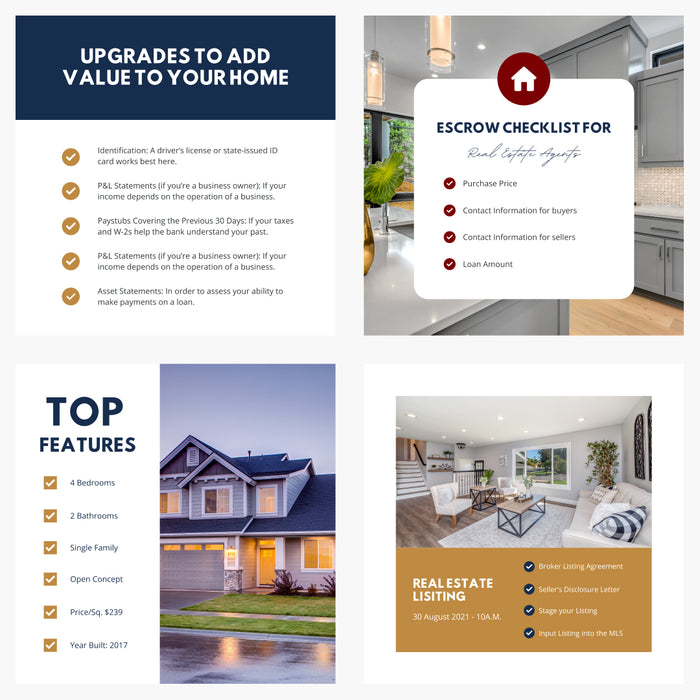 REAL ESTATE FACTS
Wow Your Tribe
Stand out in the crowd. Personalize industry news and information by customizing my templates according to your brand colors and fonts.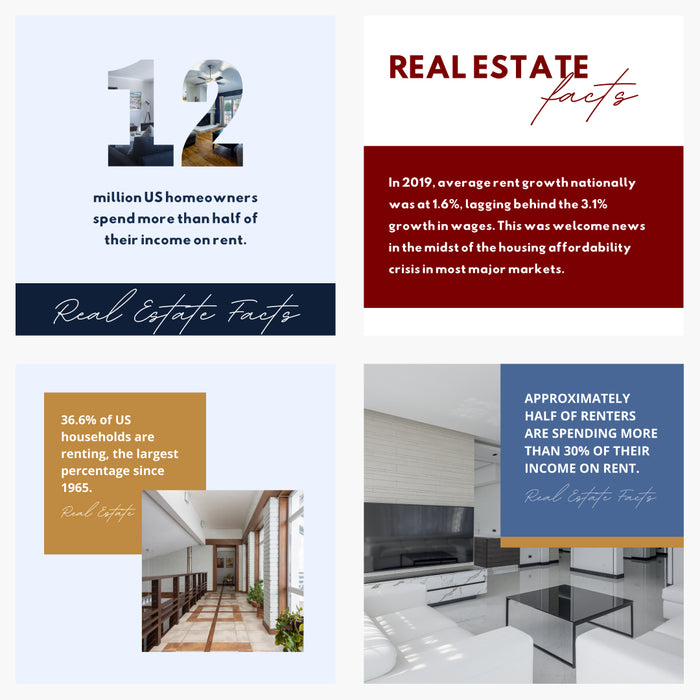 GLOSSARY AND CONCEPTS
Educate your Followers
Create shareable and save-worthy content with valuable information presented in clear, compelling, and organized formats.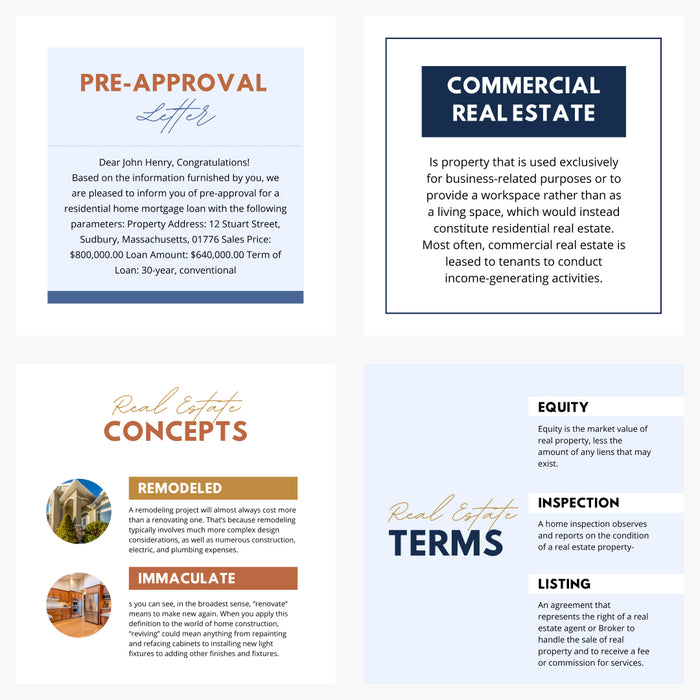 JUST LISTED GRAPHICS
Share Your Content
Publish blog articles as a venue for your Instagram followers to interact and discuss.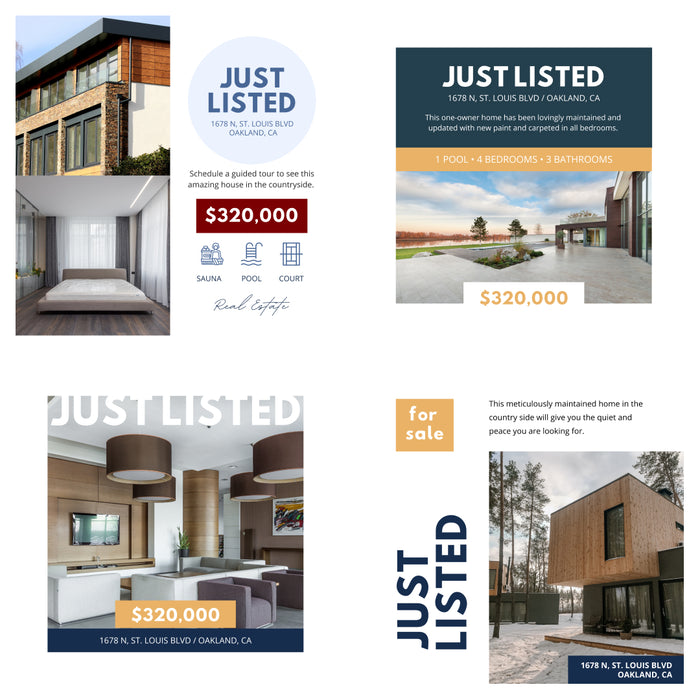 JUST SOLD POSTS
Promote Your Achievements
Exhibit closed deals to build brand confidence in your tribe.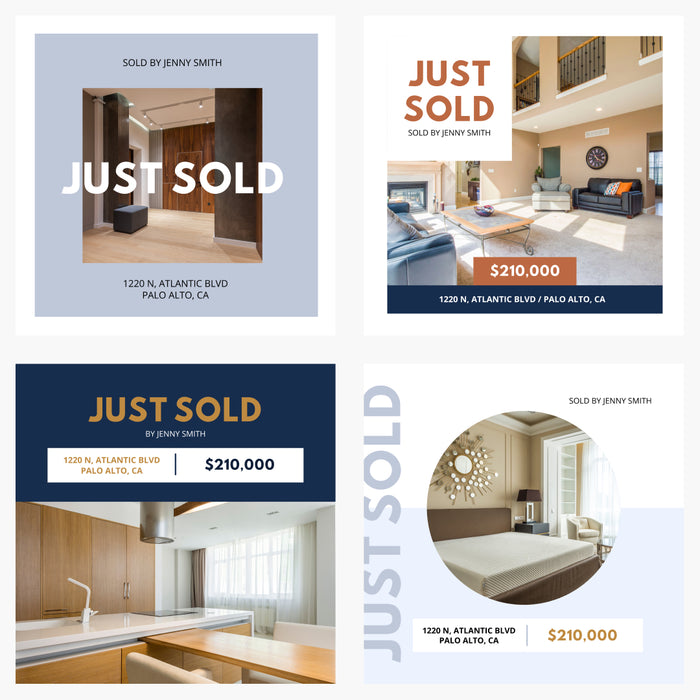 MEET THE TEAM
Humanize Your Business
Showoff the people you most rely on to make your brand appear humane, kinder, and more reachable.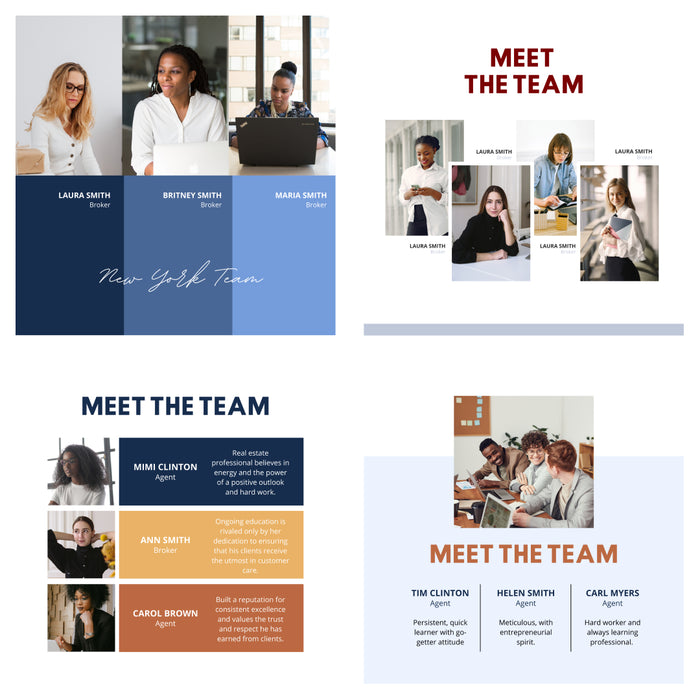 PHOTO GALLERIES
Boost Your Sales with Engaging Content
Promote your products and services by leveraging the power of beautiful landscape and property photos.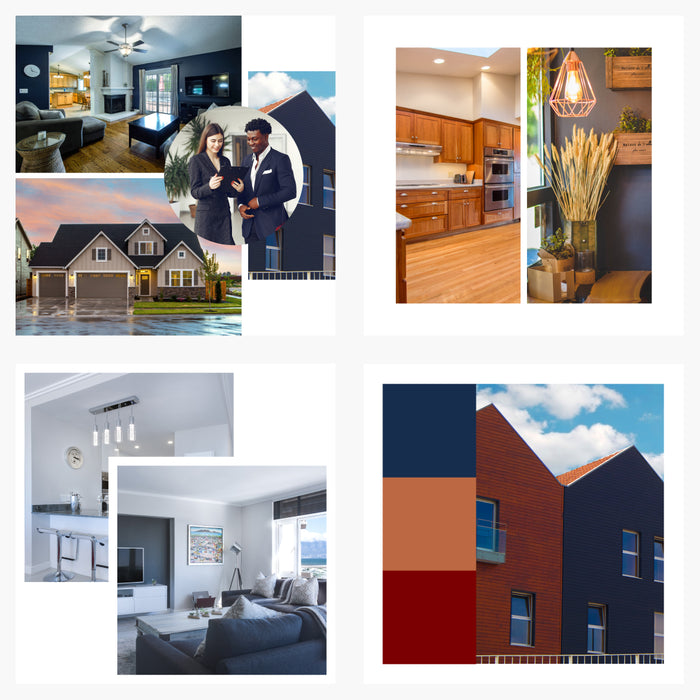 REAL ESTATE Q&A
Establish Your Authority
Address the concerns of real estate buyers and sellers using layouts that are easy to comprehend at a glance.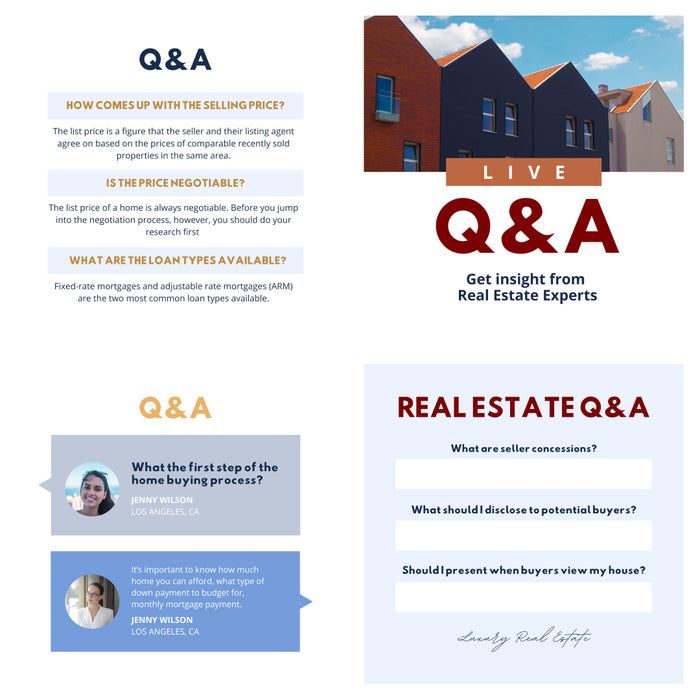 QUOTES FOR ENCOURAGEMENT
Inspire Your Audience
My easy-to-edit Canva templates are designed to stop your audience from scrolling. Create a beautiful Instagram feed with Image Frames, Mood Boards and Quote templates.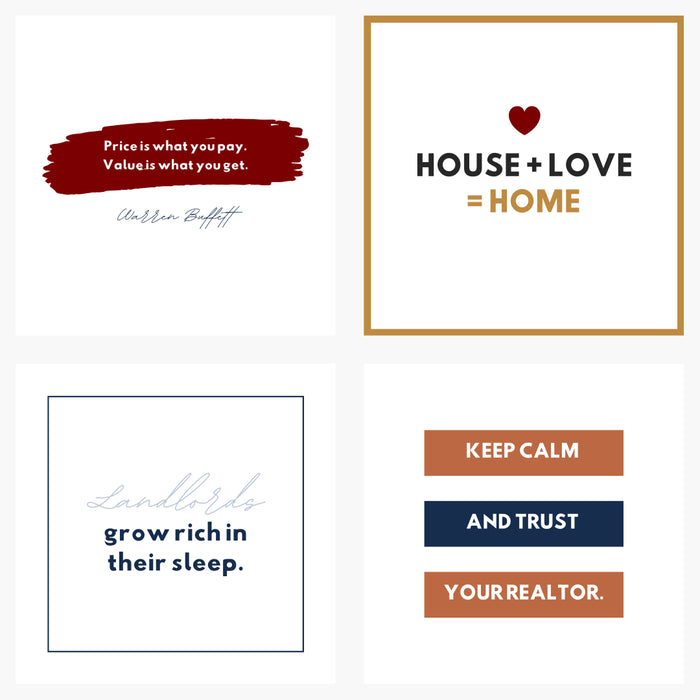 REMINDERS AND NOTIFICATIONS
Increase Your Following
Discounts and promotions increase likes, follows and shares. Countdowns to end-of-sale dates are fun, too!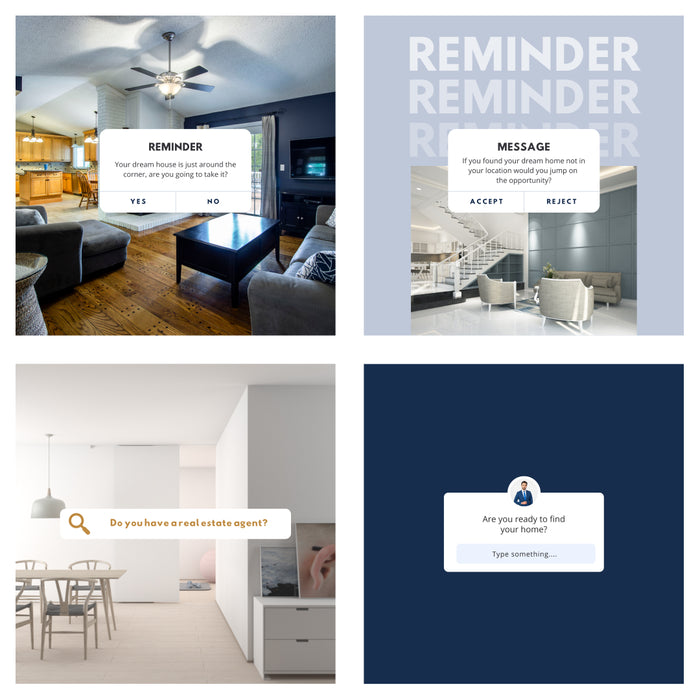 TESTIMONIALS
Build Trust in Your Brand
Client testimonials can help brands increase conversion rates by 20%. Share your customers' love in a beautiful way.
TIPS FOR BUYERS & SELLERS
Nurture Your Brand's Reputation
Earn your audience's respect and loyalty by showing your support through helpful and relevant content.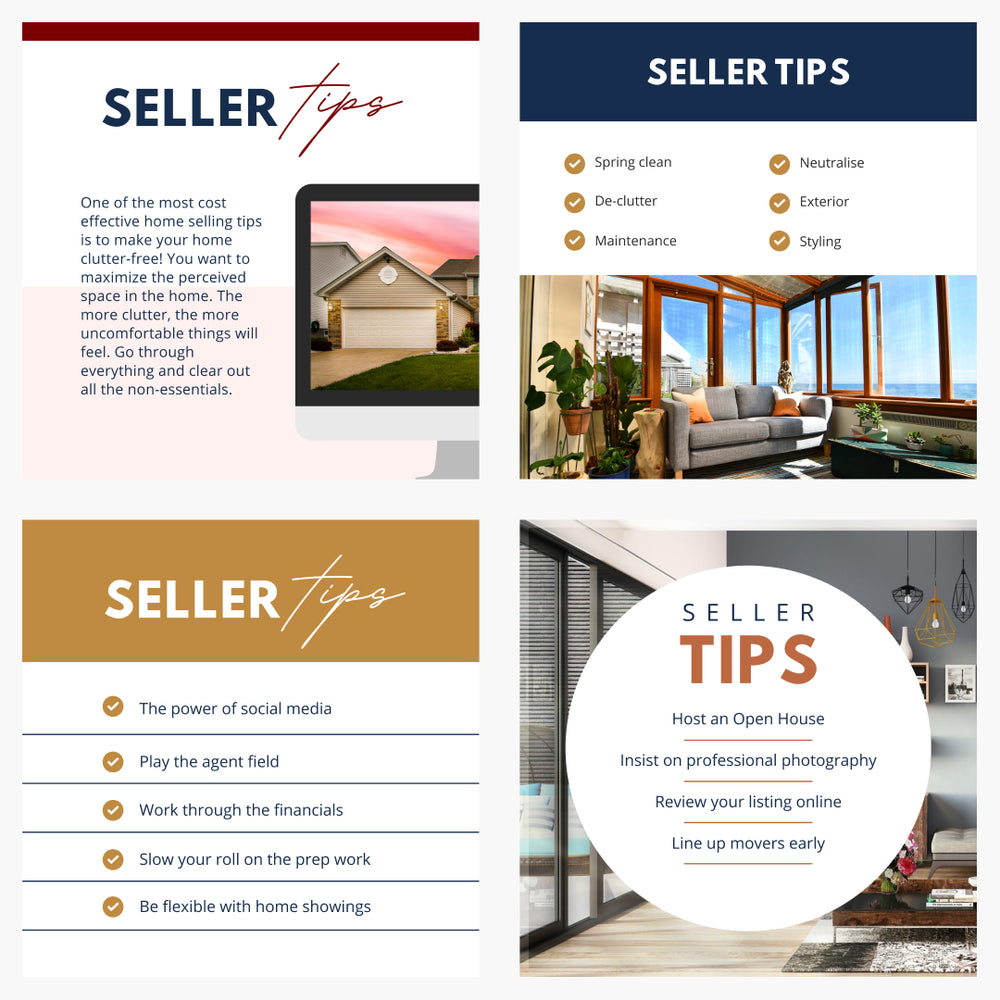 BONUS! 300+ Free Instagram Stories Included
Every day, over 500 million people watch IG Stories. Telling your story in this transient format makes your brand more authentic in the eyes of your audience.

Stand out and get people talking!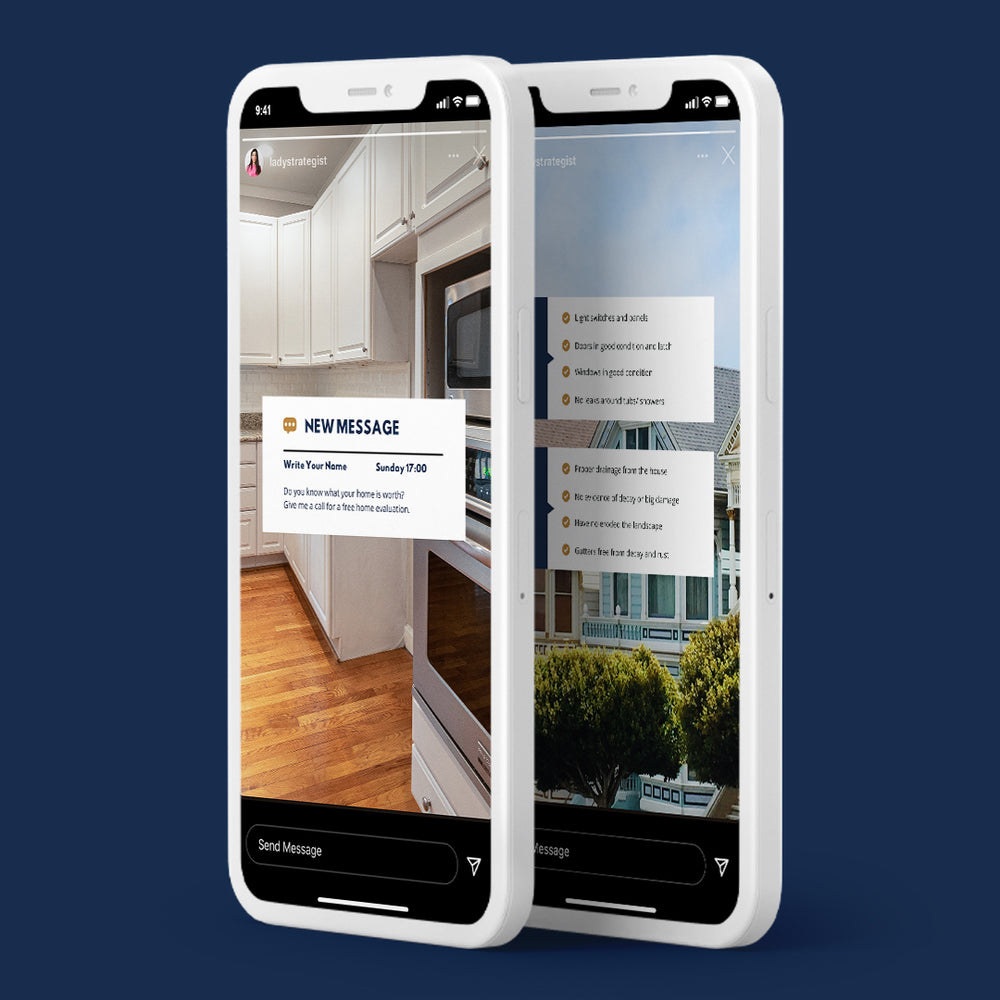 Use my Real Estate Instagram Templates so YOU can Connect More While Working Less.
No more of countless hours devoted to creating Instagram graphics on your own.
Spend less time designing and more time running your business.
Publish your posts in minutes using a beginner-friendly platform
Never run out of ideas. Instead come up with fresh ones everyday
Say goodbye to the design frustration and the stress of unique content creation once and for all.
Step up your Instagram game without having to be an expert.
Boost your audience engagement w/ visually appealing content.
Build your brand identity through consistent relevant content.
It's Very Easy to Customize in Canva!
NO learning curves. NO graphic skills required.
Who Is This For?
Small Business Owners, SM Managers
Influencers and Content Creators
Educators, Digital Product Sellers
Ready to Join the Tribe & Level up Your Online Biz?
"these templates made my life sooooo much easier!" ★★★★★
Regular $197 (Save $158)
Personal
$39
24 Facts + 24 Checklist Posts
Unlimited Graphics for your Clients
Agency
$97
24 Charts, Diagrams and Graphs
24 Facts + 24 Checklist Posts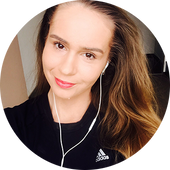 "I wish I knew about these templates sooner"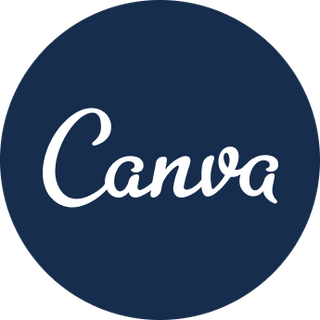 This is What You'll Get
620+ unique engagement-boosting Instagram Canva templates in the Real Estate category.

Designed to deliver results! (Plus FREE Updates)
CHARTS, DIAGRAMS AND GRAPHS
Easy to understand, stunning, impactful, and engaging templates
CHECKLISTS, TIPS & HACKS
Lead Magnet Promo templates to drive traffic to your landing page and website
REAL ESTATE FACTS
Show them who's the boss! Personalize your content with customized templates that match your brand voice
GLOSSARY AND CONCEPTS
Shareable and save-worthy content presented in easy to understand and organized formats
JUST LISTED GRAPHICS
Blog articles that become a focal point of interaction and discussion among your followers
JUST SOLD
Exhibit closed deals that build brand confidence in your tribe
MEET THE TEAM
Let your clients get to know you. Humanize your brand and boost engagement
PHOTO GALLERY
Leverage the power of beautiful landscape and property photos to promote your real estate services
REAL ESTATE Q&A
Addresses the concerns of real estate buyers and sellers with templates that are easy to comprehend at a glance
QUOTES FOR ENCOURAGEMENT
Create a stunning Instagram feed with a mix of  Image Frames, Mood Boards and Quote templates
REMINDERS & NOTIFICATIONS
Keep their curiosity piqued and sustain their interest with timely notifications
TESTIMONIALS
Increase your conversion rates by 20% by sharing your customers' love with the world
TIPS FOR BUYERS & SELLERS
Support your tribe with helpful hacks and earn their respect and loyalty
BONUS! 300 INSTAGRAM STORIES
Get people talking with your authentic and unique Brand Story
Ready to Join the Tribe & Level Up Your Online Biz?
"these templates made my life sooooo much easier!" ★★★★★
Regular $197 (Save $158)
Personal
$39
Unlimited Graphics for your Clients
Agency
$97
Ready to Create Scroll-Stopping Real Estate Instagram Graphics in Minutes?
Why would you want to spend time designing Instagram Graphics from scratch? Invest that in growing your Real Estate business!
You've Got Questions. I've Got Answers!

How do I access my templates?
After purchasing the templates, all you need to do is create a Canva account either on your mobile device or computer. There, you will be able to access all of the Canva templates you purchased and edit them accordingly.
What software do I need to edit the templates?
The best part is that you don't need any special software in order to use Canva. The website is available as an app for Android and Apple devices, as well as an app for Windows and iOS computers, making it easier than ever to make your templates into something that will make your business visuals go from mediocre to mind blowing. In fact, over 70% of marketers use visuals in their marketing strategy, which is why we tried to make it as easy and accessible as possible to use our templates.
Are the images included?
Yes, all pictures used in this pack have a license that allow redistribution.
Do I need a Canva subscription?
No paid Canva subscription is required. In fact, the template will work with both free and Canva pro accounts. All you need to do is create a FREE account on canva.com and you're good to go.
What can I customize?
Everything. You can choose the color scheme, edit the text, design your own infographic templates, and so much more. In essence, you can make the templates entirely your own and suitable to the needs and requirements of your brand. You can make them as creative and colorful as possible, too.
Contact and Support?
My team is ready and willing to answer any questions you may have. Feel free to send us an email at help@ladystrategist.com
EARNINGS DISCLAIMER
Any earnings or income statements or examples shown through our Website are only estimates of what might be possible now or in the future. There can be no assurance as to any particular financial outcome based on the use of our Website. You agree that I am not responsible for your earnings, the success or failure of your personal or business decisions, the increase or decrease of your finances or income level, or any other result of any kind that you may have as a result of information presented to you through our Website. You are solely responsible for your results. This website is in no way sponsored, administered, or associated with Facebook, Inc. or Instagram, Inc.

Product Presentation
Imagine presentation on your device without any troubles and missings.