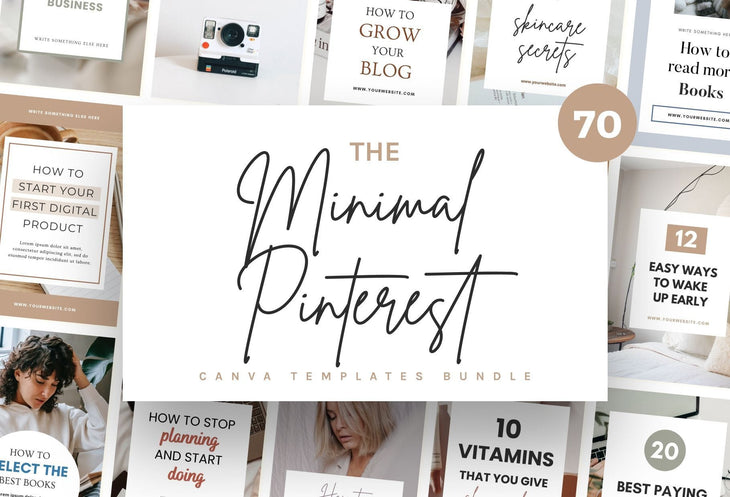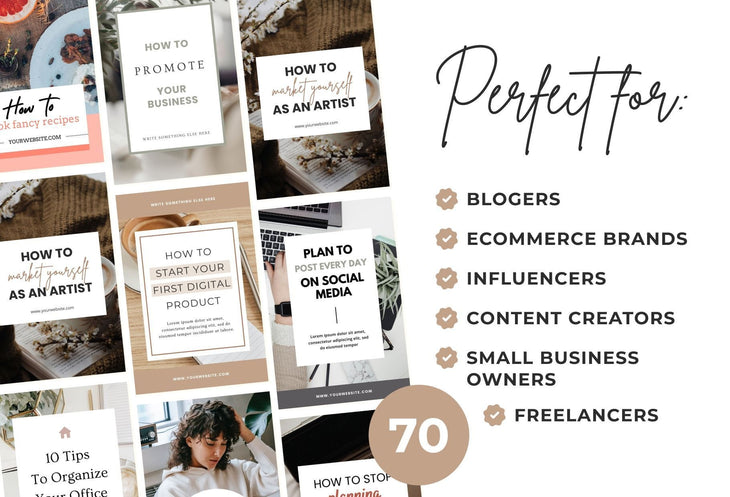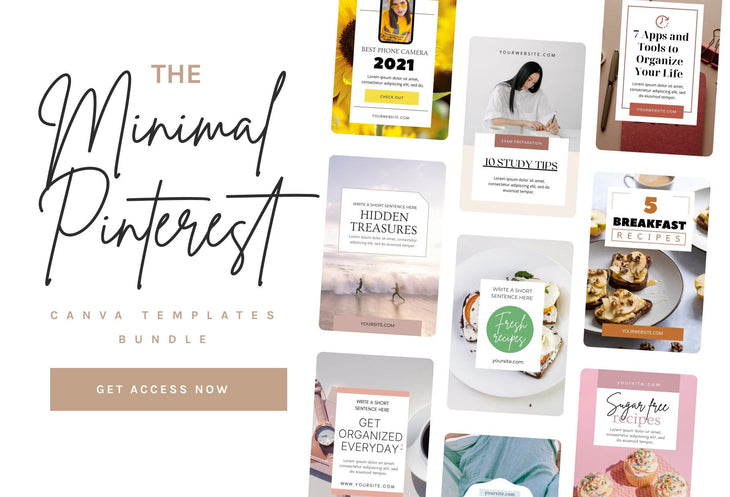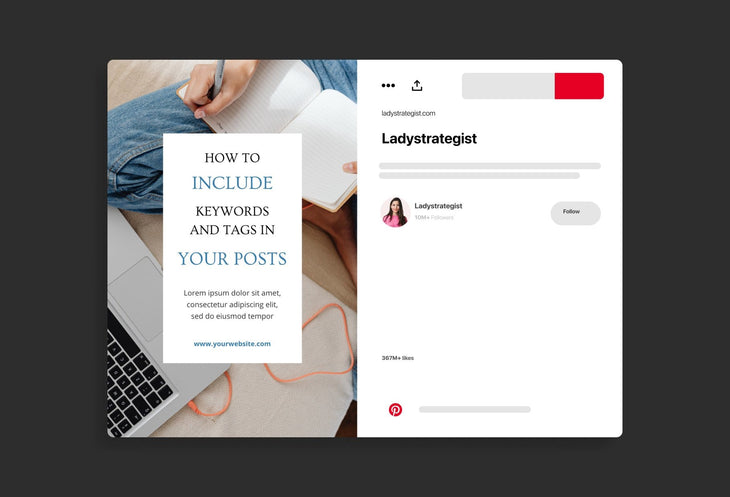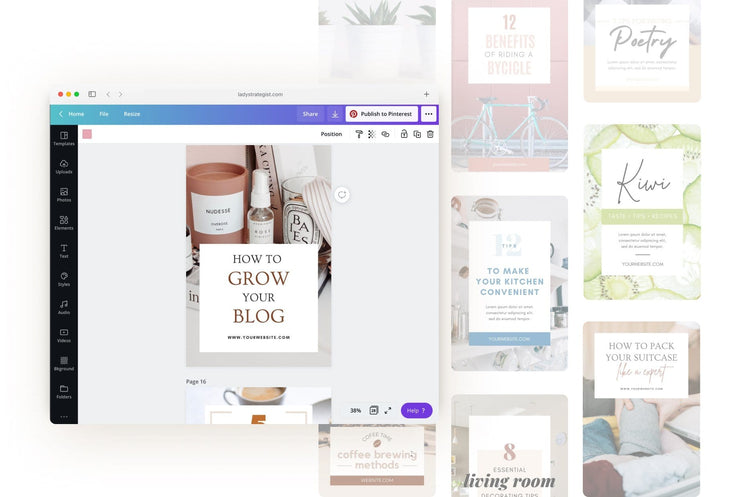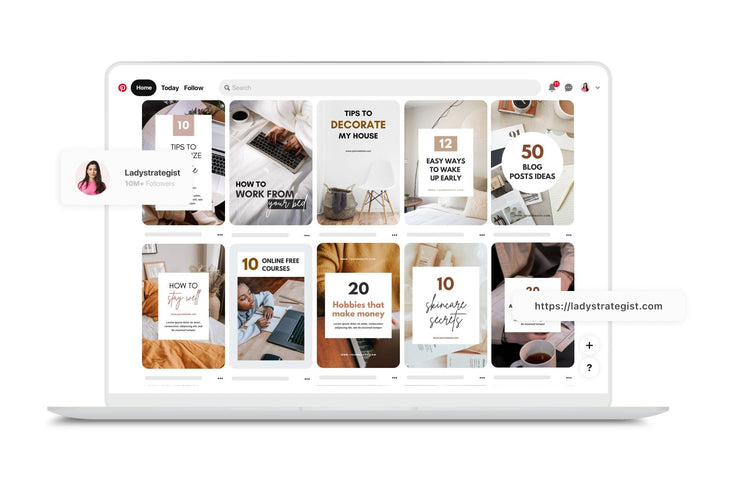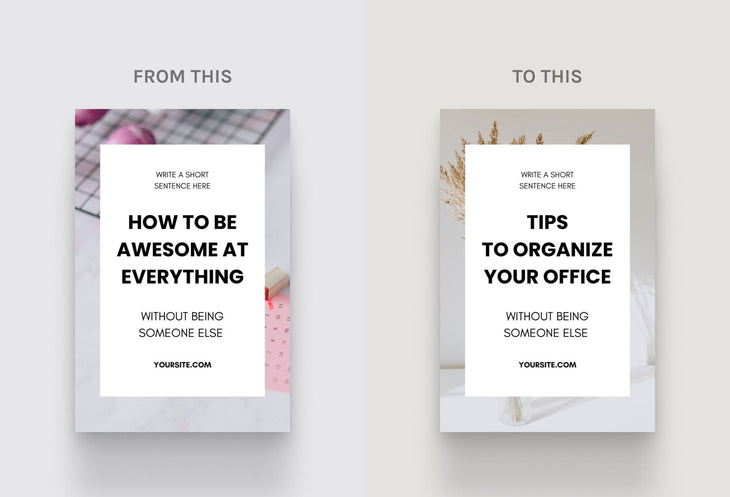 70 Minimalist Pinterest Templates for Canva
Highlights
Digital download
Digital file type(s): 1 PDF file
Compatible with: Canva Free and Pro
Sure, you've heard it before. "The more pins the merrier!" But who's got time for that? If you are ready to triple your traffic and increase sales, these templates were made for you!

Throwing up content on social media, including Pinterest sounds daunting, but with these CANVA templates, you don't have to worry about that anymore!
Make your next product or blog content great with these modern, minimalist, and easy-to-use Canva templates. With 70 pre-made Pinterest board-ready templates compatible with Canva you'll never run out of ideas for your new pins. Create one for a simple tutorial, another to share an amazing destination you visited last year and still love without ever visiting it again, and finally, one more just because! These are versatile and can be adjusted to any brand, niche, industry, and topic!
Never worry about spending hours upon hours perfecting each design detail yourself. These templates give perfectly curated boards in minutes - no hassle at all!
For busy marketers, this is a must! Save time in design while also making it simple to change and update your pins. Having these templates can give you ideas for any content or product. For one low and ridiculous price you're getting something that should last years with unlimited usages per product or service, such as social media branding or even customer acquisition campaigns on Pinterest!
These are perfect for bloggers, eCommerce brands, influencers, content creators, small business owners, or freelancers, and require Canva basic knowledge. No need to pay for a Canva Pro subscription, the Free Canva account is enough to edit these templates.
Get Instant Access Now!
70 Minimalist Pinterest Templates for Canva
Highlights
Digital download
Digital file type(s): 1 PDF file
Compatible with: Canva Free and Pro
Complete Checkout Process
After completing the checkout process you will instantly receive your files in your email.
Check your email to access your content
Click the link to download the PDF with the direct Canva links
Customize to your liking, export, and share
Buy once and you are able to download all of our assets forever.